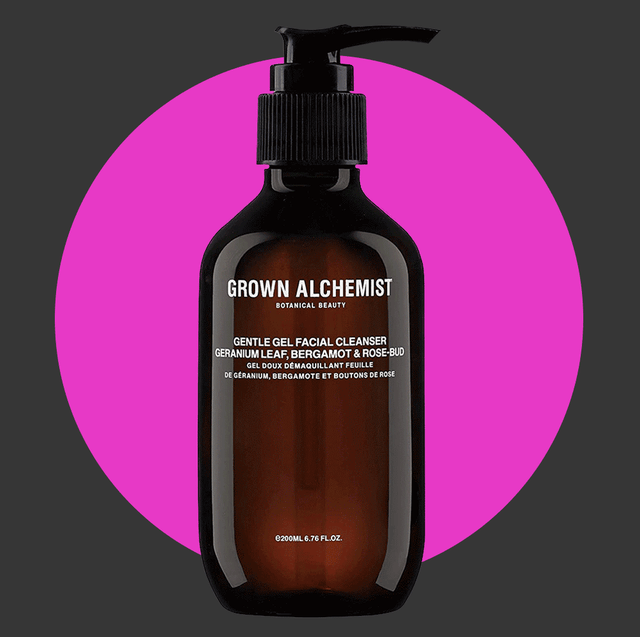 Sensitive skin? Pregnant? Just want to be one with nature? If you can check any of these boxes, natural face wash is definitely for you. "Ideal for those who are struggling to find the right skincare products that are free from chemicals, preservatives, and fragrances, natural face wash can be a great alternative," explains New York City-based dermatologist Shereene Idriss.
Note, there are no government-enforced standards for what "natural" actually means—meaning, beauty brands can claim any of their products fall under the category. Elle.com previously reported that when looking for natural products, it's important to take a look at the product's label—noting where its ingredients were sourced and its supply chains.
Idriss also adds that natural face washes tend to have simple formulas which makes them more appealing to pregnant women who are worried about the chemicals they're putting in and on their bodies. Some natural face washes with fewer ingredients may also be ideal for those who tend to flare up from more complex products. So, what should you look for? "Pink clay is the gentlest of all clays that does not strip your skin of its natural oils, while remaining extremely effective at replenishing your skin with the nourishment it needs," says Idriss.
Idriss also plays favorites with the Tata Harper Regenerating Cleanser. "It buffs and polishes your skin with apricot seed powder, removes buildup with pink clay and pomegranate enzymes, and refines pore appearance with white willow bark—a natural salicylic acid," explains Idriss. See Tata Harper's Regenerating Cleanser and eight other options below.
Advertisement – Continue Reading Below
1
Organic Palmarosa + Aloe Face Wash
Earth tu Face
amazon.com
$52.00
All Earth Tu Face products are free from added fragrances, preservatives, and fillers so even the most sensitive skin can rest easy. The foamy cleanser is also made up of nourishing oils like coconut, jojoba, and olive. Yum.
2
Naked Papaya Gentle Enzyme Face Cleanser
Kinship
lovekinship.com
$22.00
This face wash adds zing to every cleansing session with its energizing citrus scent. Its formula contains plant-derived enzymes and probiotics to help visibly brighten skin.  
3
Fantastic Face Wash
Ursa Major
ulta.com
$28.00
Made from 99.5 percent natural ingredients, this cleanser exfoliates using natural AHA/BHA fruit acids and then hydrates with aloe. Goodbye dead skin cells, hello healthy and natural glow.
4
Face Cleanser
Meow Meow Tweet Tweet
meowmeowtweet.com
$25.00
This milky cleanser melts onto your skin and sweeps away waterproof makeup, dirt, and debris with ease. It leaves behind soft skin, an earthy scent, and zero residue.
5
Intense Defense Cleansing Gel
Avalon Organics
amazon.com
Vitamin C brings the heat against wrinkles, dull skin, and the appearance of fine lines. The lathering foam works over time to reveal fresher, brighter skin.
6
Brightening Honey Melt Facial Cleanser
Kiwi Botanicals
walmart.com
$7.97
This cleanser starts as a thick gel and—as the name says—melts into a slippery foam that sweeps dirt and makeup from your skin. Its manuka honey is responsibly sourced and helps thoroughly cleanse skin to leave it feeling soothed and touchably soft. 
7
Tata Harper Regenerating Cleanser
Made from 100 percent natural ingredients, it's no wonder this is Dr. Idriss' favorite of the bunch. The Australian pink clay works to rid skin of impurities and clogged pores, revealing smaller, healthier pores. 
8
Gentle Gel Facial Cleanser
grownalchemist.com
$39.00
This gel cleanser, with its blend of botanical oils (like bergamot and sweet orange) and squalene (an ingredient that mimics skin's natural oil content), cleanses and noticeably softens skin.
9
Tea Tree & Willow Clarifying Cleanser
100% Pure
100percentpure.com
$34.00
It's all about sake in this boozy beauty cocktail. Sake is full of minerals and acids that work to exfoliate the skin; it also act as a bit of an astringent for oilier complexions.
This content is created and maintained by a third party, and imported onto this page to help users provide their email addresses. You may be able to find more information about this and similar content at piano.io
Advertisement – Continue Reading Below