Planning to check out the digital nomad Mexico scene? With a generous six-month tourist visa, relatively low cost of living, warm weather, and of course, tacos, there are many great reasons to consider Mexico's digital nomad cities.
Mexico has everything from great digital nomad beach towns, like Tulum and Puerto Vallarta, to bustling big cities, like Guadalajara and Mexico City.
With six months in the country, some digital nomads move from city to city, to experience as much as possible while working remotely from Mexico.
As someone who's been living the digital nomad life in Mexico since 2018, I know first-hand you'll never run out of places to explore.
Thus far, I've traveled to half the states in Mexico, lived in three, visited each place on this list, and still have so much more I want to see and do!
While you won't always find fiber optic internet in Mexico, each place on this list has an established digital nomad community and is sufficient for most to do their online work. Mexico truly offers some of the best cities for digital nomads in the world.
If you're ready to check out the best Mexico digital nomad spots, this guide will help you pick the right one for you.
Mexico City
Consider Mexico's capital city — it has a little something for everyone. 
Why Mexico City is a top city for Digital Nomads
As an international destination, Mexico City attracts expats and digital nomads from all over the world. 
Mexico City is a very friendly place, so you'll have no trouble meeting interesting people, especially others in one of the numerous co-working spaces. 
Since it's such a large city, there are endless things to eat, see, do and experience in Mexico City. Plus, numerous tours, day trips, nearby ruins, and destinations to explore.
Mexico City Coworking spaces
Mexico City has everything from 20-story We Work mega-offices, to boutique spaces like HomeWork and Coffice, a coffee shop with dedicated digital nomad workspaces.
Prices vary, but plan for about $200USD for a hot desk, and $350 per month for a private office.
How to Find Apartments in Mexico City
Many expats opt for the safe and trendy neighborhoods of Roma, La Condesa, Reforma and Polanco.
Located near each other in the central part of Mexico City, non-Spanish speakers flock to these English-friendly areas that also have great parks, cafes, and nightlife.
Something I suggest with every digital nomad city in Mexico is starting off with an Airbnb for a month.
One month is a good amount of time because most hosts give a nice 20-50% discount for month-long stays, and it's also enough time to get a feel for the place before booking longer.
Cost of Living in Mexico City
For a nice one-bedroom Airbnb in a good part of town, you'll pay about $1,000USD.
As a walkable city with nice weather nearly all year long, you can always walk, but there are also buses, the metro and the EcoBici bike-sharing program — so you can keep transportation costs to just $50USD per month.
For food, you can do it on the super cheap by only eating street tacos and shopping in local mercados, rather than chain supermarkets.
For a mix of eating street tacos, occasionally in restaurants, and buying mercado groceries, you can get by on as little as $400USD per month.
Pros and Cons of living in Mexico City
If Mexico City sounds like it must be among the best places in Mexico for digital nomads, it is; though it's far from perfect.
The main reasons you might want to skip it are the poor air quality, higher crime rates than other places in Mexico, and because it's very crowded with almost nine million inhabitants.
Playa del Carmen, Mexico
This once sleepy fishing village now attracts tourists, expats, retirees, and digital nomads.
Why Playa del Carmen is a top city for Digital Nomads
While not all parts of Mexico have good enough internet to meet the needs of remote workers, especially beach towns, Playa del Carmen does.
This is precisely why so many end up here, as well as the abundance of co-working spaces, the large community of digital nomads, the fun things to do, and of course, the beaches.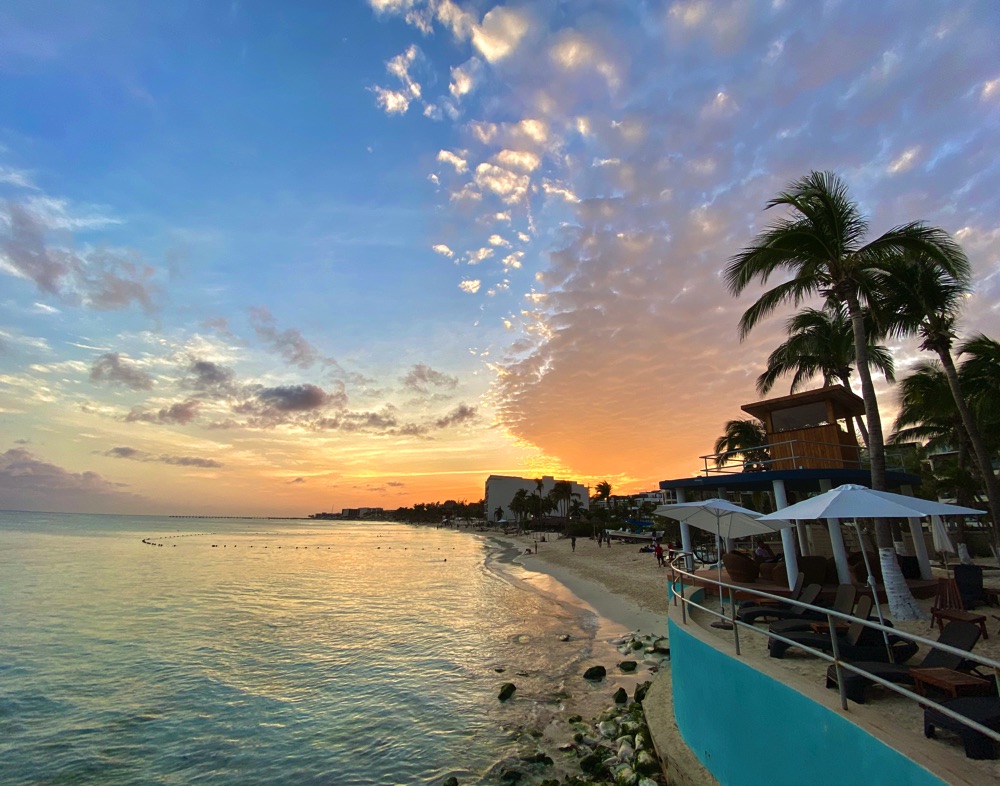 Playa del Carmen Coworking spaces
Among the best co-working spaces in Playa del Carmen, there's The Nest and Bunker.
Some will opt to live and work in Selina, a hostel and workspace that's among the best options for working remotely in Mexico — with a location in Playa del Carmen, and other cities throughout Mexico and the world.
How to Find Apartments in Playa del Carmen
Those who are working remotely in Mexico typically want to be near restaurants, coworking spaces, and the beach.
In Playa, these are the popular neighbourhoods for digital nomads: Gonzalo Guerro, Zazil-Ha, Tohoku, and south Luis Donaldo Colosio.
Start the search on Airbnb, where the monthly discount will really make a big dent. Keep in mind many hosts charge extra for electricity, which can add up if you use the AC all day.
There are numerous Facebook groups for digital nomads. Have a look at Expats in Playa del Carmen and Expats and Locals in Playa del Carmen and post your request for accommodation.
Once in town, you could also walk through the neighborhoods you like and look for "Se Renata" (For Rent) signs to call the owners directly.
Cost of Living in Playa del Carmen
Depending on your lifestyle, you can expect to spend $1,000-2,000USD per month.
A modest one-bedroom near the beach can run a little as $800-900USD per month with rent and bills (if you're cautious with electricity and the AC).
However, for a nice building with a pool, doorman, gym, etc., plan for $1,200+. The best place to search is Airbnb and Facebook groups.
Your transportation and food in Playa del Carmen should not exceed $500 per month, especially if you stick to local places away from touristy 5th Avenue.
Playa del Carmen is walkable, though also very hot, so you may take in-town taxis a lot (rides average $2-5). Note: There's no Uber in Playa.
Pros and Cons of living in Playa del Carmen
The obvious pro is you're living on the beach! However, the obvious con is that if you don't like tropical weather, Playa del Carmen is probably not for you.
It is hot for most of the year, and rains almost daily in the summer, with hurricanes a possibility. Winters are gorgeous with sunny days and cool temperatures.
However, there are also Mayan ruins to explore, cenotes to swim in, miles and miles of beaches, lively nightlife, and a large digital nomad community. If the hot summer weather won't bother you, Playa del Carmen has a lot to offer.
☞ SEE ALSO: Digital Nomad Guide to Living in Playa del Carmen
Oaxaca City, Mexico
Located in the southern state with the same name and filled with culture and authenticity, Oaxaca is a great choice for digital nomads.
Why Oaxaca is a top city for Digital Nomads
Oaxaca (pronounced wa-ha-ka) is among the most culturally rich states in Mexico. There are numerous activities in Oaxaca to keep you busy.
Its capital, Oaxaca City, has attracted artists and chefs for years — it's considered the Foodie Capital of Mexico. Nowadays, digital nomads are headed to Oaxaca City for a slower pace of life that's also teeming with culture.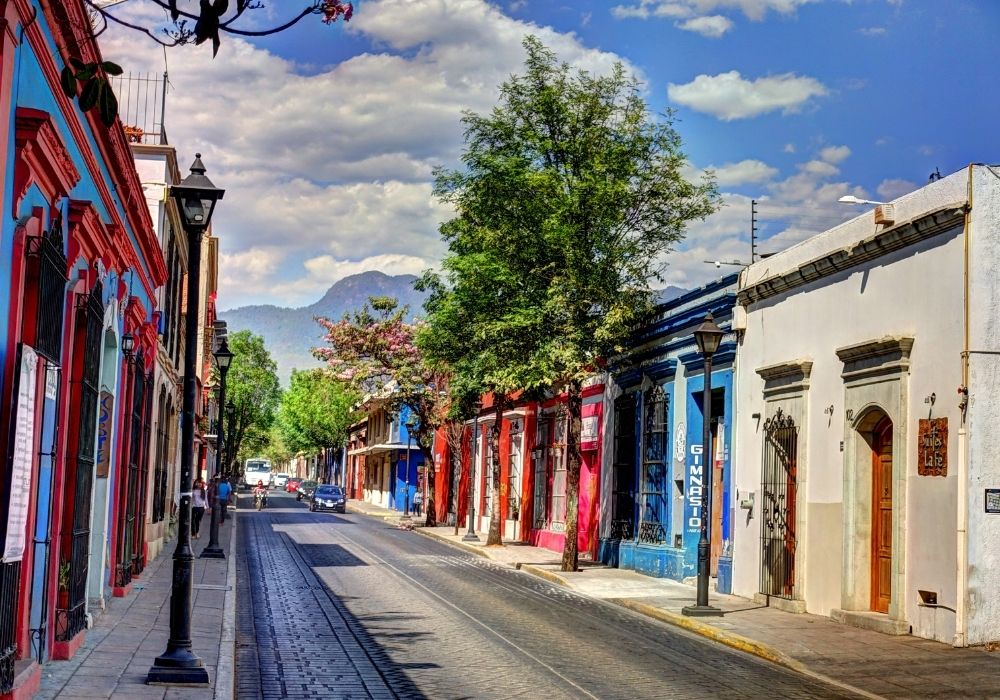 Oaxaca City Coworking spaces
For those who render huge video files or need to be on Zoom all day with a flawless connection, Oaxaca's overall WiFi can be hit or miss.
For regular online work, there's Pan:Am, which is a cafe so you'll have to buy food and drinks, and Convivio Coworking, known to have the strongest WiFi in town.
How to Find Apartments in Oaxaca
The two trendy neighbourhoods that are popular with remote workers right now are Jatalaco, and Xochimilco. Both of these neighbourhoods are located just outside of the historic centre.  
The Facebook group Oaxaca Housing Rent/Buy/Sell/Trade is quite active for apartment seekers.
You can also start with a stay in Selina Hostel, which would cover your housing and co-working space. Located in Centro Historico (Historic Downtown), Selina is a great option for digital nomads.
Cost of Living in Oaxaca
Oaxaca used to be very inexpensive, but that's changing as more expats and digital nomads come ready to spend in dollars and euros.
To live in one of the two best neighborhoods in town, Centro and Jalatlaco (pronounced ha-lat-lack-oh), you can find Airbnbs for about $650-800USD per month.
Oaxaca has a desert climate, so hot days, cool nights, and little rain — meaning it's walkable.
There are some public transportation options and taxis, but you likely won't spend much on either. Food in local mercados is also amazing and inexpensive, so plan for $450USD per month.
Pros and Cons of Living in Oaxaca
Oaxaca has an amazing culture, fun annual festivals, great food, a slower pace of life, and beautiful nature.
However, it's a bit off the beaten path, so while there's an airport (Oaxaca International Airport), you'll usually have to connect through Mexico City. This smaller-sized pueblo can also sometimes lack the creature comforts of larger cities.
☞ SEE ALSO: Digital Nomad Guide to Living in Oaxaca
Tulum, Mexico
Mayan ruins at its doorstep, gorgeous beaches, and an international crowd, Tulum has become one of the top cities in Mexico for Digital Nomads over the years. There are lots of things to do in Tulum, with partying being at the forefront. 
Why Tulum is a top city for Digital Nomads
This is the absolute perfect place for two kinds of digital nomads in Mexico — those who seek a spiritual community and those who want to party.
Besides beautiful beaches, there's a large community of digital nomads and it's a small town, so you'll network and make friends quickly.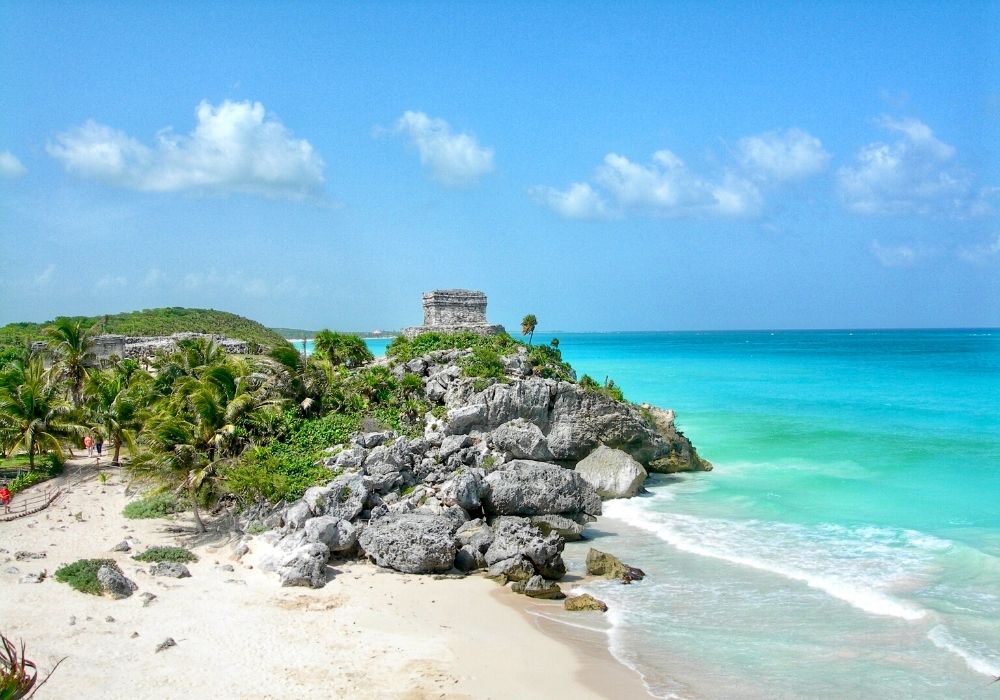 Tulum Coworking spaces & Tulum WiFi
Tulum used to have the worst speeds in Mexico, though that's changing, and some newer construction Airbnbs even advertise fiber internet.
With more and more digital nomads headed there, Tulum now has several co-working spaces, like Digital Jungle and CoWorking Tulum.
How to Find Apartments in Tulum
Tulum is a small town, so it's very easy to network in person once you're there.
For the first month, you may want to rent an Airbnb Downtown and then just start getting to know people and seeing what you can find. Rentals in Tulum on Facebook is another option.
Cost of Living in Tulum
You can get a nice one-bedroom in Tulum Town (AKA Downtown) for about $800-900USD on Airbnb. This will include bills, but some hosts charge extra for electricity, which can add up fast in a tropical town like Tulum.
Food might run you a bit more than in some other Mexico digital nomad hotspots because there is a focus on eating organic — so plan for $500USD per month.
Most people who move to Tulum end up buying a bike to get around, which is both economical and eco-friendly.
Pros and Cons of living in Tulum
Tulum is a fun town, but it's very much a party town that ages out at about 30. If that's not your scene, consider somewhere else.
If you happen to be a digital nomad and also a scuba diver, Tulum has some of the best diving in Mexico, both in the Caribbean Sea and the Tulum cenote caves.
San Miguel de Allende, Mexico
UNESCO-listed San Miguel is quite the opposite of Tulum. This colonial city has a quieter vibe, with more of a focus on arts and culture. Still, there are numerous things to do in San Miguel de Allende for digital nomads.
Why San Miguel de Allende is a top city for Digital Nomads
With its beautiful architecture, colonial charm, and perfect weather, San Miguel is a coveted place to live. As you'll soon see, it's one of the most expensive cities on the list — but worth checking out for at least a month, if not longer.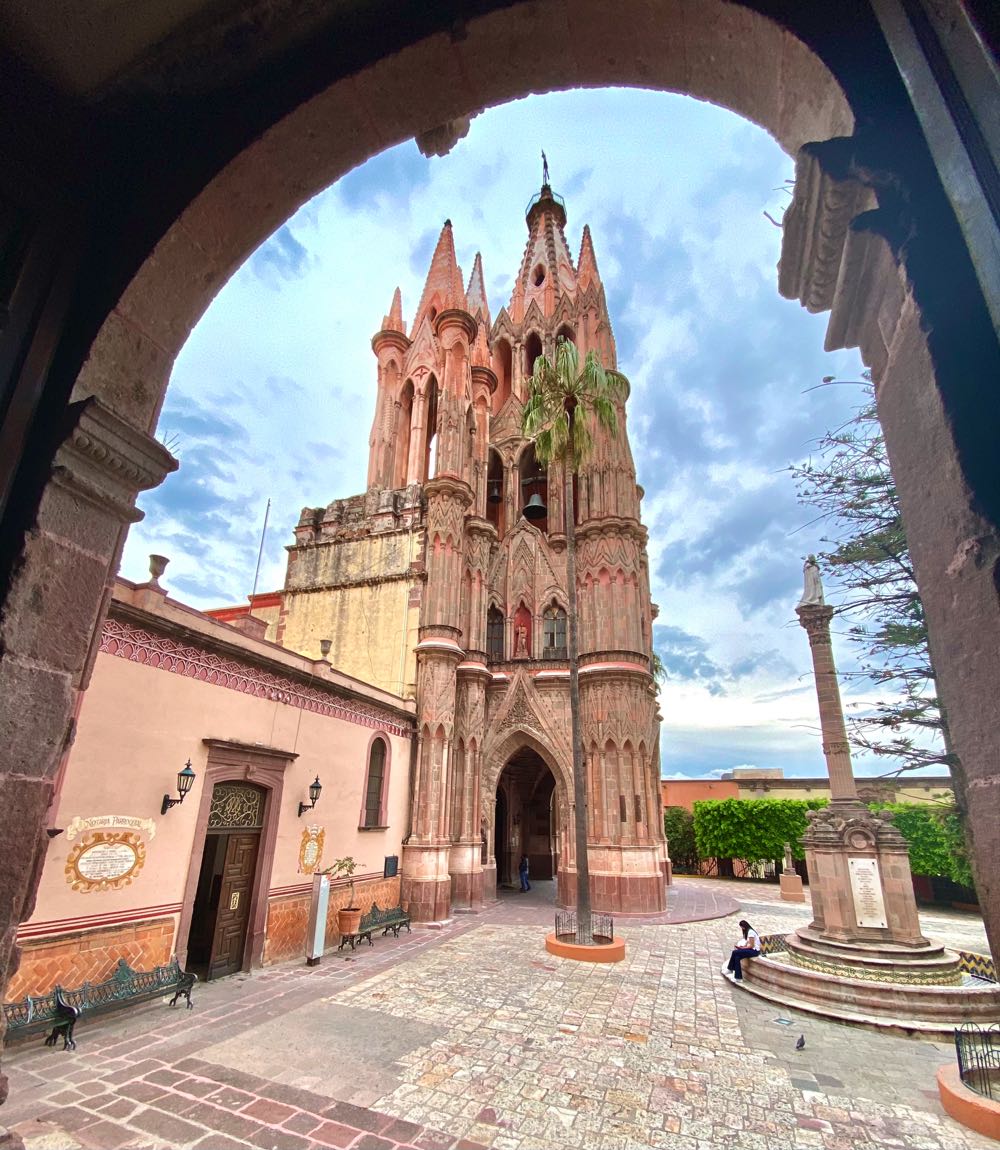 San Miguel de Allende Coworking spaces
This is a small town with a good amount of retirees, so there aren't too many co-working spaces.
For this reason, you'll want to rent an apartment with strong WiFi (ask the Airbnb host to send you a screenshot of a speed test), or you can check out Smartspace Hub and San Marcos Coworking. 
How to Find Apartments in San Miguel de Allende
If you want to live in Downtown (centro) San Miguel, start with an Airbnb for a month. After that time, you'll likely have some good contacts in town and can network in person.
As many people in San Miguel speak English, you can look for "Se Renta" (For Rent) signs and contact the owners directly. 
Cost of Living in San Miguel de Allende
If you want to live in the most beautiful parts of Downtown, in one of the quintessential San Miguel de Allende homes, expect to pay about $1,200-2,000USD per month for an Airbnb.
If you don't mind being 10-15 minutes outside of town by car, costs can drop by half.
As the main part of town attracts wealthier tourists and expats, eating out in restaurants is also much more expensive than in other parts of the country.
If you're cooking at home and not eating out too much, you can plan to spend $400USD per month on food.
Pros and Cons of living in San Miguel de Allende
This is definitely a small town, where everyone knows everyone. Depending on your personality, that can be charming or stifling.
The age range definitely skews older here, with a lot of retirees calling San Miguel home. While it's a beautiful city, it is also expensive, Americanized, and "polished".
Puerto Vallarta, Mexico
This Pacific Coast city has always been popular with tourists, expats, and retirees. These days, digital nomads are also choosing Puerto Vallarta. 
Why Puerto Vallarta is a top city for Digital Nomads
Puerto Vallarta is unique among Mexico beach towns in that it's definitely a tourist hot stop, but it still feels like it has a lot of authentic Mexican culture.
It is, however, very much a city — with an international airport, big hospitals and shopping malls, and solid infrastructure. It's a great Mexico digital nomad option because you get a lot in one city, and at relatively affordable prices.
There are lots of things to see and do in Puerto Vallarta, whether you're interested in beaches, mountains, food, culture, or sports, you'll find it here.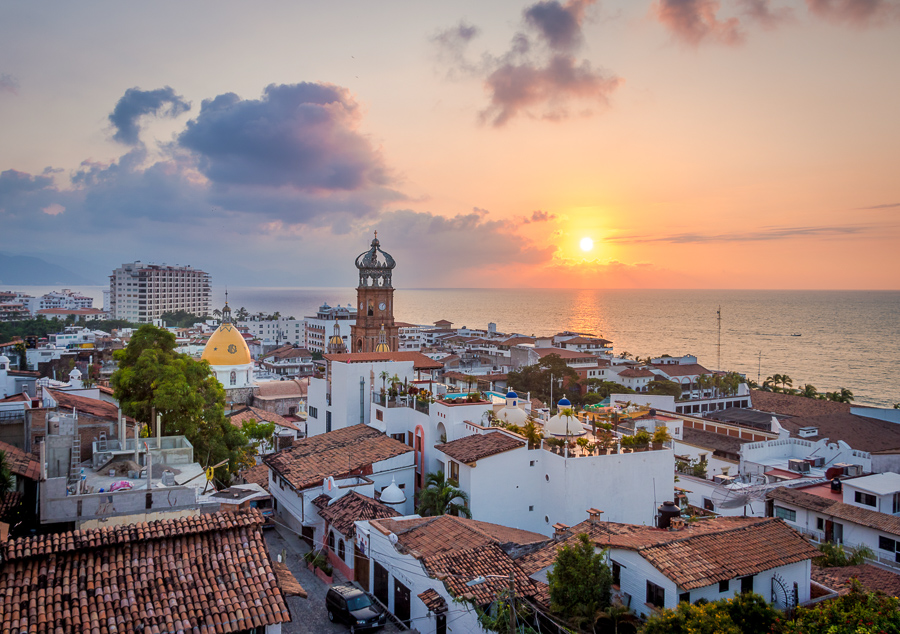 How to Find Apartments in Puerto Vallarta
For each city on this list, you'll notice it says to start with an Airbnb for a month. Puerto Vallarta is no different — but you can search in the 5 de Diciembre neighborhood instead of the main Downtown areas.
A bit outside of the main tourist area, 5 de Diciembre is more local and often has the best deals. The Romantic Zone is the heart of the nightlife, and Centro offers the main square and shopping.
Cost of Living in Puerto Vallarta
For a beach town, you'll actually find great deals here. You can easily find a nice one-bedroom Airbnb by the beach in the Downtown areas of Viejo Vallarta or the Zona Romantica for $700-800USD per month.
Things are a bit more spread out in Puerto Vallarta, it's quite hilly, and it's often very hot, so you'll likely Uber more than in other places.
For that reason, you might need to factor in about $100USD per month for Ubers. As with most everywhere else, food is inexpensive at about $450 per month, if you eat in local places and shop at mercados. 
Puerto Vallarta Coworking spaces
For those who do plan to live in Downtown, you'll be within walking distance of the best co-working space in town, Vallarta CoWork. There's also Natureza Cowork, a cafe/co-working space located closer to the suburban part of town.
Pros and Cons of living in Puerto Vallarta
Honestly, there aren't many cons!
You have access to some of the best beaches in Mexico and the mountains, amazing food, it's safe, it has an Old World charm, and an airport (Puerto Vallarta International Airport). If there's a con, it would be the hot weather in the summer.
Merida, Mexico
This Yucatan city is a great place to base yourself. Merida offers big city living, with small-town charm and access to all amenities. 
Why Merida is a top city for Digital Nomads
Merida is perfect for low-key digital nomads and culture seekers, as Merida is considered the Culture Capital of Yucatan.
The age range skews older here, closer to 30s-40s versus 20s-30s in most places — so it's more about immersing in Mexican culture than partying. But, there are still lots of fun things to see and do in Merida to keep you busy.
Merida Coworking spaces
The main Merida co-work is Conexion 60, located on the prettiest street in town, Paseo de Montejo.
Besides this, there are a few smaller ones, like Hex CoWork and Clustar, located in the north part of the city outside the historic zone. Some cafes welcome workers for the day who buy food and drinks, like Marago Café.
How to Find Apartments in Merida
You can start out in a Merida Airbnb for a month. When picking one, concentrate on the areas of Paseo de Montejo, Centro Historico and Itzimna.
Facebook Marketplace and Facebook groups, like Merida Casitas for Rent, are also two great resources for your apartment search.
Cost of Living in Merida
Merida is still relatively inexpensive compared to other big cities in Mexico. You can find nice one-bedroom Airbnbs in great parts of town with a splash pool for $850USD per month.
The city is very walkable, though you'll often have to Uber to escape the heat and rain. Luckily, the main parts of town are all pretty close to one another, so 20 minute Uber rides only cost about $3-5USD.
Pros and Cons of living in Merida
For those who want a more "authentic" Mexico life, but also access to an airport (Merida International Airport), great hospitals, big shopping malls, vegan restaurants, and other city-style amenities, Merida is a great option.
The one big con is the weather. Merida has a tropical climate, so it's hot and humid for much of the year.
Unlike the cities located right on the beach — Merida is 35 minutes from the nearest beach — you won't get those delightful sea breezes. If you hate hot weather, skip Merida.
Final Thoughts: Mexico Digital Nomad Cities
While this was a pretty complete list of the best cities in Mexico for digital nomads, there are a few more up-and-coming places gaining in popularity. These include Queretaro, San Cristobal de las Casas, Guadalajara and Puebla.
Regardless of where you choose to start your digital nomad in Mexico journey, with the free six-month visa you'll get upon arrival, you can stay there — or keep exploring.
As an amazing country in its own right, and a great digital nomad country, you won't regret checking out Mexico.
Disclaimer:Goats On The Road is an Amazon Associate and also an affiliate for some other retailers. This means we earn commissions if you click links on our blog and purchase from those retailers.