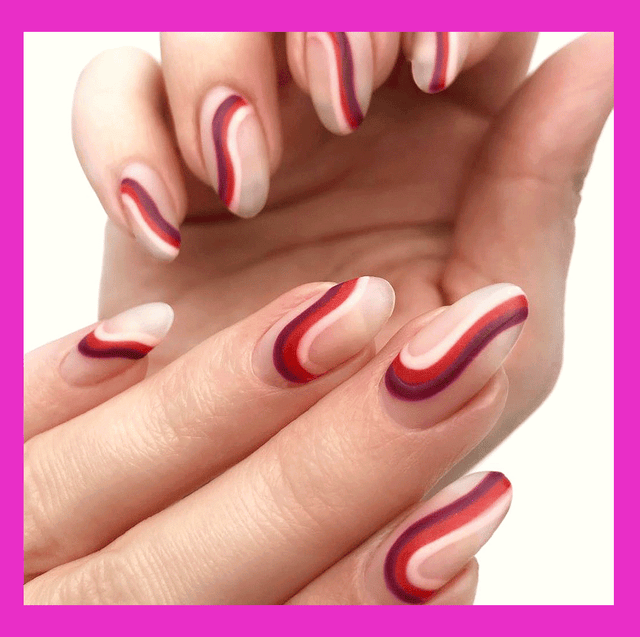 What pairs best with chocolates, a teddy bear, or a bottle of wine? Valentine's Day nails, of course. They only add oomph to the 'grams you'll post of the goodies from your S.O. (…or yourself, which we highly encourage.) Here, Instagram's finest nail artists present 45 nail art designs that are perfect for showcasing all of the sweet treats you're indulging in this month. From romantic ribbons of pink polish or indulgent red velvet hues, use these looks to celebrate love—for your partner, yourself, and for nail art.
1 of 45
Touch of Rouge
Did you hear? The French manicure is back, people. If classic white tips feel a bit boring, spice it up with a deep red shade instead. Festive and simple.
Design by @fongminlia
2 of 45
Work of Art
Here's a friendly reminder that you don't need to stick to pink and red for Valentine's Day. Mix it up with a mauve and latte shade for a subtle nod to the holiday.
Design by @paintboxnails
3 of 45
Dropping Hints
Drop a hint of which brands you'd love for your V-day gift with these Dior logo painted nails. Dior fits perfectly on each nail along with the Chanel logo, the LV logo, and the Gucci logo.
Design by @thegeledit
4 of 45
Candy Striper
Nails worthy of the MoMA. The artistic design balances the red and pink with a hint of nail—or negative space—in between. Use tape to section off your desired untouched areas and divide between paint colors then get your Piet Mondrian on.
Design by @paintboxnails
5 of 45
Slide Through
These inviting nails say, "Come through." The structural design allows just the right amount of pink to rest on your nail beds.
Design by @mpnails
6 of 45
The Sweetest
Candy hearts aren't just for eating this year. Give yourself the gift of little sweet treats on each of your nail beds. Here is a helpful tutorial on how to get started.
Design by @dawenails
7 of 45
Cheetah Girl
Cheetah, but make it pink. Show your spots this V-day with animal-inspired tips. A soft pink base makes the perfect canvas for this easy nail design.
Design by @naominailsnyc
8 of 45
Will You Accept This Rosé?
Rosé may be a summer drink but who says you can't wear the hue on your nails this winter? If you're feeling trendy, go for see through tips like this one from Nail Job.
Design by @naominailsnyc
9 of 45
Cherry Bomb
Don't feel like going full vixen-red? Add a bit of contrast with a soft lilac hue at the base of your nail beds. The color instantly adds a modern touch to your bombshell look.
Design by @paintboxnails
10 of 45
Better Shape Up
Frost your fingertips with an angular design. Isolate different sections of your nail to create the geometric shape. (Cold drink not included.)
Design by @paintboxnails
11 of 45
Music To My Nails
Upgrade a French tip with a pink base and musical notes. Maybe you'll manifest a mixtape (or at least a Spotify playlist) from your Valentine.
Design by @naominailsnyc
12 of 45
The Stud
This subtle look appears more difficult to do than it actually is. Place a piece of double stick tape on your nail surface and adhere the studs to the tape. Paint them and apply a top coat so they don't smear when you glue them onto the nails.
Design by @mpnails
13 of 45
Pink Power Ranger
If the people's Power Ranger, the pink one, were celebrating Valentine's Day with her significant other, we'd imagine her battle-ready nail design would look something like this.
Design by @paintboxnails
14 of 45
Ruby Sparkles
Let the glitz and glamour from the holidays spill over to the new year. The bright red glitter sparkles add a shimmery effect to brighten any tips.
Design by @nailsbymei
15 of 45
True Love
Wearing your heart on your sleeve was so last Valentine's Day. Wear your heart on your nail beds with this oversized red heart design.
Design by@nailjob
16 of 45
Little Hearts
If you're really swept up in the magic of the moment—love is in the air!—then you'll love this nail design covered in teensy weensy hearts. Apply a top coat to seal the little hearts in place and to add a bit of shine.
Design by @valleynyc
17 of 45
Pink Glitter Bomb
A soft millennial pink base is amplified by a glittery accent. Don't go for the classic French manicure—switch it up with a shimmer nail like this one.
Design by @paintboxnails
18 of 45
Haute Pink
Here's a simple way to take an on-theme color and elevate it just a bit. That white line punches above its weight and turns a blinding one-color nail into something neatly divided and elegant.
Design by @painboxnails
19 of 45
Delicate Detail
Your fingers, wrist, and neck shouldn't be the only body parts getting bejeweled on Valentine's Day. Share the love with your nails with this pretty design.
Design by @paintboxnails
21 of 45
Pink Lines
We're still in love with the negative nail trend, and it looks even sweeter in baby pink. Simply add a strip of thin tape horizontally, then paint over in your favorite lacquer. Wait until tacky, then remove the tape. Once the color is completely dry, finish the look with a clear top coat.
Design by @paintboxnails
22 of 45
Queen of Hearts
Get literal by wearing your heart on your nails this holiday. There are a million ways to paint the symbol, but try these alternating designs that channels a harlequin queen.
Design by @theillustratednail
23 of 45
Emoji Kisses
The second most popular Valentine's Day symbol has to be the kiss shape, which looks even better in micro print.
Design by @sonailicious
24 of 45
Neutral Shine
If you're color-shy but still want in on a killer nail look, try this design. Start with a sheer coat of nude polish and let dry. Layer different styles of glitter polish, then finish off the look with accents in white polish.
Design by @cassmariebeauty
27 of 45
Dotted Edge
This simple dot design is an easy way to upgrade a pink manicure.
Design by @mpnails
28 of 45
Love Is Love Is Love
Show your pride—and love for all—with a rainbow nail instead of a literal Valentine's Day design.
Design by @aliciatnails
29 of 45
Polka Dots
Polka dots are always feminine and fun, making them an ideal print to wear on Valentine's Day. We suggest this neutral color combo so the look stays fresh beyond February 14.
Design by @dollydayinn
30 of 45
Simply Sweet
Delicate sequins glow atop a salmon-pink polish. It's sweet and simple, just like you.
Design by @paintbox
Advertisement – Continue Reading Below
This content is created and maintained by a third party, and imported onto this page to help users provide their email addresses. You may be able to find more information about this and similar content at piano.io